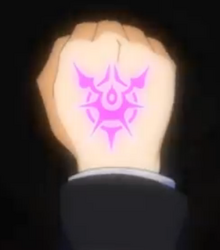 The Star Brand is a symbol that appears on a Disciple between the ages of 16-18. The symbol shows that they contain Star Energy/Star Ether which depends on gender. This power was granted by the Star God in hopes of gifting others to being the saviour for the turn of events that have begun.
Those who bear the Star Brand are then sent to the Aterra Academy to be educated to use the Star Energy they were given. In the game, the brand usually displays a magneta colour. However, heroines are given a different brand colour.
Ad blocker interference detected!
Wikia is a free-to-use site that makes money from advertising. We have a modified experience for viewers using ad blockers

Wikia is not accessible if you've made further modifications. Remove the custom ad blocker rule(s) and the page will load as expected.